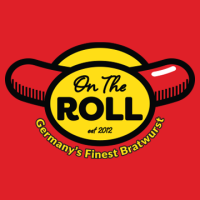 1 George Square, Edinburgh, EH89JZ (Show me directions) Show Map
Online Orders Home Delivery
Monday to Tuesday: Closed , Wednesday: 11:30 to 14:00 , Thursday to Sunday: Closed
Profile
Germany's Finest Bratwurst
On The Roll was established in 2012 by two Germans whilst studying at University in Edinburgh. They missed the Bratwurst sorely and realised quickly something needed to be done. The idea of the German Street Food stall was born. A tiny BBQ-tricycle, custom built in Germany, and a street trading license in Edinburgh got us started to serve Germany's finest Bratwurst to all the hungry Bratwurst Lovers in town.

In 2013 we started serving our delicious sausages on 1 George Square, Edinburgh. Ever since, this has been our main location and quickly became the place to go for a great quick lunch during term time or a treat during the Edinburgh Fringe. We offer a variety of traditional German Bratwursts including a vegan option, and of course the all-time favourite - our big Currywurst. All served with a choice of homemade sides and traditional German condiments.
If you want to visit us please Find Us Here and check out our opening times.

Since the very beginning we have greatly appreciated the relationship with our Bratwurst supplier, Daniel, and his team from the Münsterland region in Germany. Daniel, a big fan of Scotland himself, organises yearly Scottish Highland games in his hometown Bad Iburg in Germany, and shares our idea of offering traditional, delicious, quality food. He makes sure all our products are sourced locally and produced to the highest quality standards. We have visited him, his team and the butchers in the region on several occasions, and we were able to observe the high standards in the sausage production. It is great to be able to track where all our products are coming from. We are proud to have worked with the same trusted supplier for all this time and we are looking forward to delivering these treats directly to your door.

We are lucky to have joined a variety of great events all over Scotland and can pride ourselves with a vast expertise in Event Catering. We offer different Catering options for all kind of events, from small private parties, to business celebrations and school events to big public festivals. We are very flexible regarding our set up and the food we are able to offer as we have different stalls, styles and menus to choose from. Please check out our Event Catering options for further information.

In 2020, the year of the creative Street Food Caterers, we are starting our new adventure - On The Roll delivers to your door.
In times when we are not able to be out to meet our lovely customers in person we have decided to bring Germany's Favourites straight to your home. Germany has so much more to offer than just the best sausages. Please check out our online shop for all the traditional and tasty German treats.
Add rich content via our editing tools
Remove ads from your listing
Appear more prominently in search results