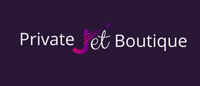 Profile
At Private Jet Boutique, we know that your time is valuable. So we make sure you get where you need to be, when you need to be there. Private jet charter allows you to set the schedule. Fly when you want, where you want, at a time that suits you.

With private jet charter, you can avoid the hassle and time constraints of commercial aviation. Whether you are a CEO, CFO, or simply someone who needs to get somewhere fast and in style, private jet charter is the perfect solution for you.

Private jet hire means travelling at a time that suits you from an airport of your choice. You fly from a private terminal and avoid the lengthy security queues and delays often experienced with scheduled flights. Arrive at the airport 15 minutes prior to departure and be in the air within minutes of arrival.

Private jet charter allows you to take control of your own schedule!
Verified on Central Index
Private Jet Boutique
Verified ID: 767b3b5598ff505eaf3896fd0c64105e
Verified 18/01/2023 @ 14:05:12
Last updated 02/02/2023 @ 09:11:15
Learn more